A $30 Pencil: e+m Workbox 5.5 mm Clutch Lead Holder + Sharpener Review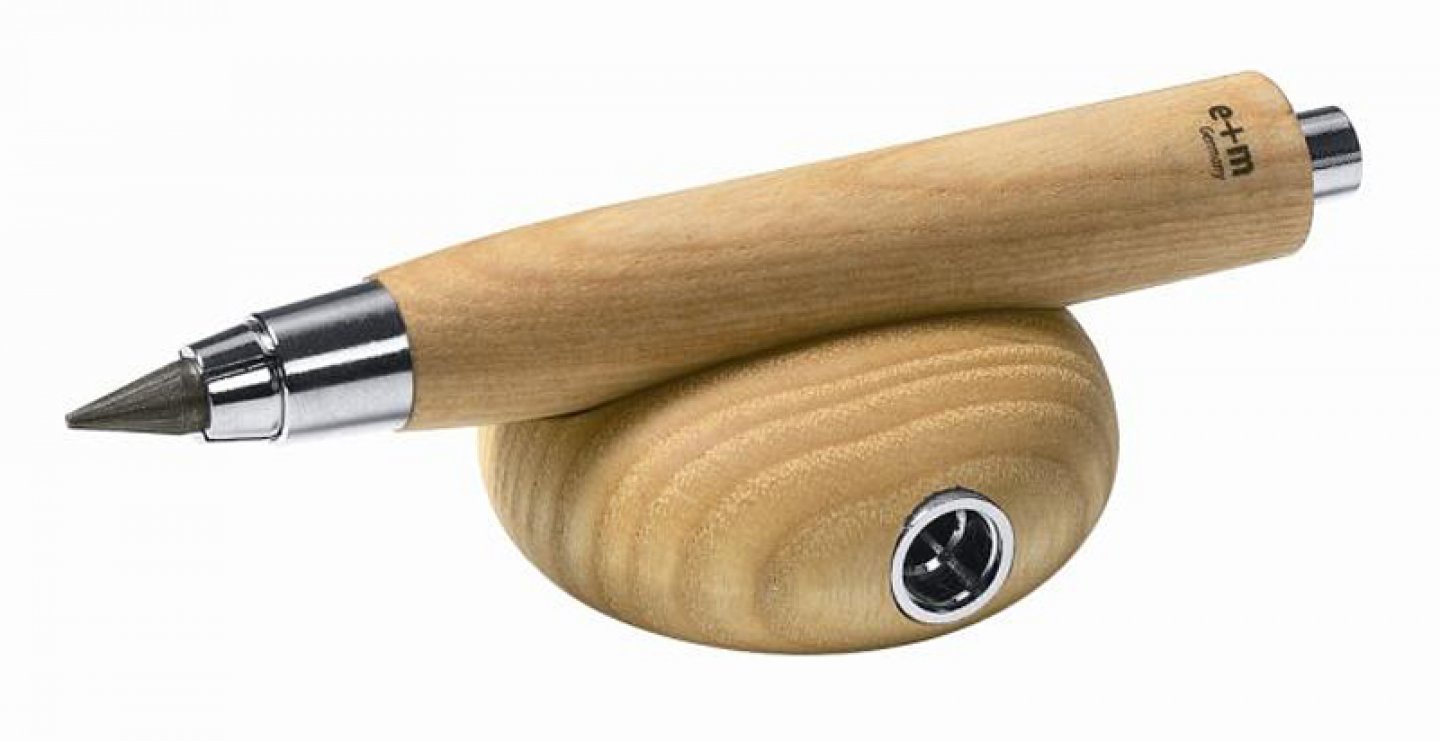 Disclaimer: JetPens credited my account with cash so I could buy things and review them. Like this pencil, which I purchased at JetPens. But you know what? I love those guys anyway.
Just what does "Clutch" mean in the stationery world? It means a pencil device that is just a lead holder. You push a button on the back of the pencil, and the front opens up, and the graphite/lead/whatever just falls out. Careful not to open it over your brand new white pants.
Why would anybody want a product like this? It uses 5.5mm lead, which is gigantic. And the pencil body is short and stubby.
Also, it costs $30 USD.
Again, why would anybody want that?

Here's why I like it:
It's different. You have likely never seen anything like this before.
It's eye-catching. It's made from gorgeous European

FSC

certified (?) ash wood. It looks great on any desk. I actually cleared a bunch of junk off of my desk just for this pencil.
It comes with an attractive stand.
The stand is also a sharpener. Now, you'll never get a super fine point on a 5.5mm lead, but that's not a problem for broad strokes anyway. You may also hear drafting people refer to a sharpener as a "lead pointer." It's weird, like putting punctuation inside of quotation marks.
For all its looks, it is an industrial product. The roots of the lead holder are on the drafting board or in the workshop.
5.5mm lead will blow your mind. You have to learn a slightly different style of writing, sketching, and drawing with it, if you are used to the standard pencil.
I am really kind of into lead holders right now. They're cool. Have you been to leadholder.com, the drafting pencil museum? If not, you should check out the wicked variety of neat little lead holders there.
Here's what annoys me about the e+m Workbox Clutch:
The lead release button is slightly off center in the hole that was drilled for it. In a $30 pencil, that is a little bit annoying. I'm chalking it up to the earthy manufacturing process, even though I have no idea if that's the cause.
I wish it came with darker lead. HB just doesn't seem dark enough. I'd like to try 2B all the way through 6B with this little guy. Darker tones with such a great piece of sketching hardware would be really nice.
This particular model doesn't come with a clip of any sort. It's a bit troublesome to carry around. If you want something a bit more portable, check out its 2mm brother. There are also 5.5mm models with clips. Check out the longer E+M clutch for an example.
The $95 model kind of looks cooler. Well, yeah.
So, I really like this pencil. I draw a lot. I used it to quickly sketch out some trucks, helicopters, and airplanes for my 2-year-old boys. It was fun. The pencil encourages you to be loose.
Also, in case you're wondering if you need to buy lead for it right away (like I did), it comes with one stick of 5.5mm lead.
I highly recommend trying out one of e+m's 5.5mm lead holders if you're at all interested in cool pencils or writing/sketching materials. The e+m series lead holders are considered "non-drafting lead holders," and their primary (if unstated) purpose is sketching.
You can check out all of JetPens' lead holders on one convenient page.
By Marc Carson, Friday June 8, 2012.
Filed under: Stationery, Pencils
My latest articles about pencils, pens, notebooks, and more