Pilot Futayaku Double-Sided Brush Pen Review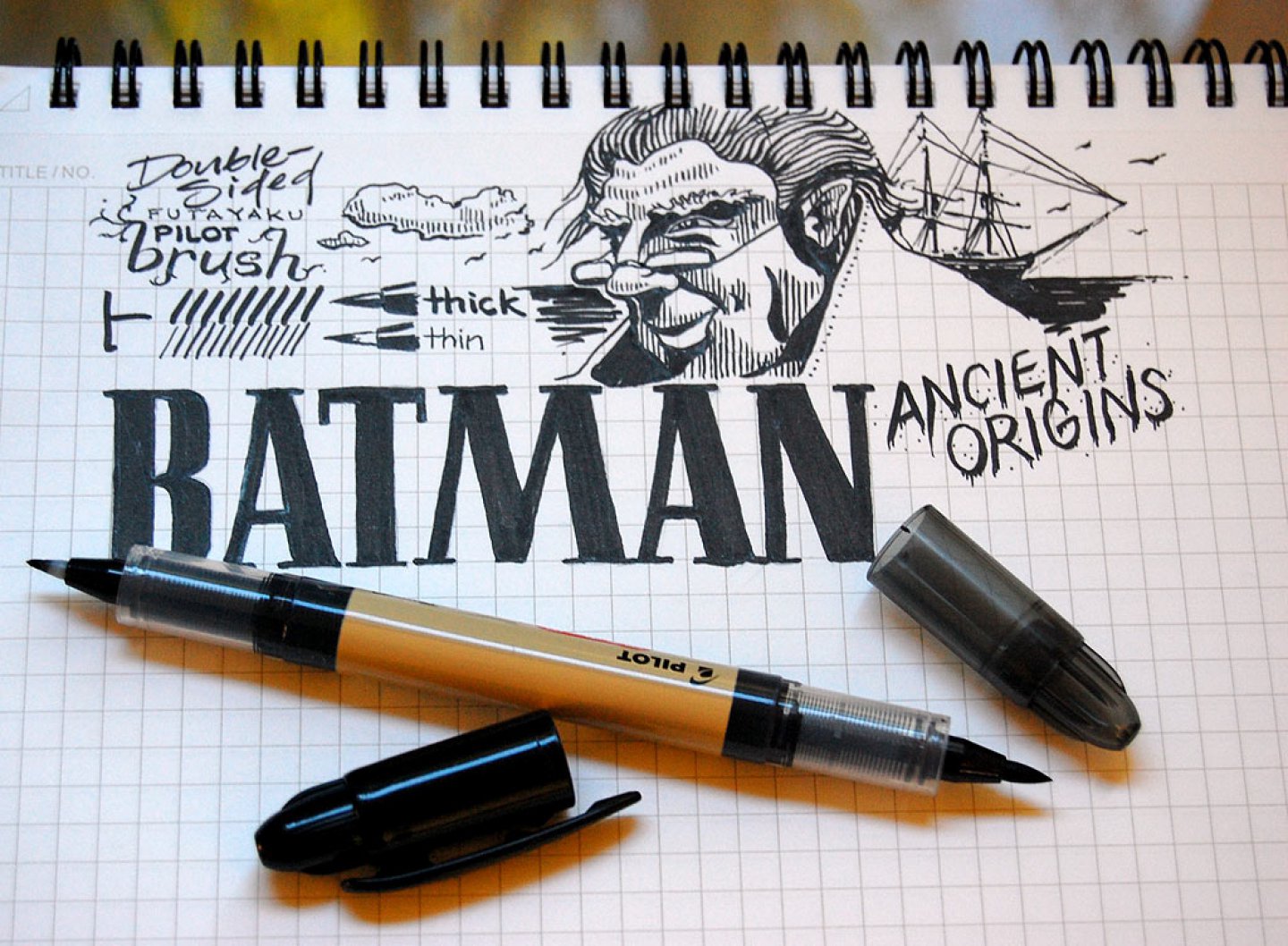 Above: A double-sided brush pen makes combinations of detailed areas and large dark areas a bit more convenient
Price: $3.30
Summary: If you haven't used a brush pen before and want to try it out, the double-sided convenience is great. At this price, it's basically a no-brainer. If you are more experienced with brush pens, this is a great alternative to carrying two disposable brush pens or markers with you.
Purchase at: JetPens
JetPens graciously sent me a this Pilot Futayaku Double-Sided Brush Pen for review. I knew they were sending a brush pen, but I had no idea that double-sides brush pens even existed!
I have used brush pens for about 15 years. I purchased my first disposable brush pen in Japan in 1998, and I quickly learned that they are a terrific artist's tool.
The Pilot Futayaku I reviewed here ("futayaku" actually just means "double-sided") has a little callout on the label that says, "for addressing letters." In case you're wondering why you'd want a double-sided brush pen to address a letter, take a look at the envelope on this page—scroll down to see the letter with the diamond red dog stamp on it: http://allabout.co.jp/gm/gc/295823/
Can you see how there are larger characters (the "to:" line) and smaller characters? That's why you'd want a double-sided brush pen to address a letter.
OK, enough about the intended use. :-) What about illustration?
I enjoyed using this pen because I didn't have to reach into my pen bag for a larger brush to fill in sizable dark areas. I just pulled the cap off the other end and filled them in. It's a convenience that makes this sub-$5 pen worth the cost.

Illustrators tend to like brush pens because you can get a huge variety of line weights from a single brush tip. With two brush tips, this pen makes it fun to experiment, and convenient to work up an illustration.
The Futayaku is filled with waterproof ink and the blacks are very solid (there is a bit of reflection spoiling the effect in the photo above).
If you are a beginner to brush pens, and just want to find out if they fit your style, I recommend this pen as a cheap way to try out multiple weights and quickly find out what brush pens are like.
JetPens has an entire section full of brush pens, so be sure to have a look around if you like them as much as I do.
The testing for this review was done in a Maruman Mnemosyne Notebook, which I reviewed earlier.
By Marc Carson, Monday September 23, 2013.
Filed under: Stationery, Brush Pens
My latest articles about pencils, pens, notebooks, and more