Zebra Tect 2way Light Drafting Pencil Review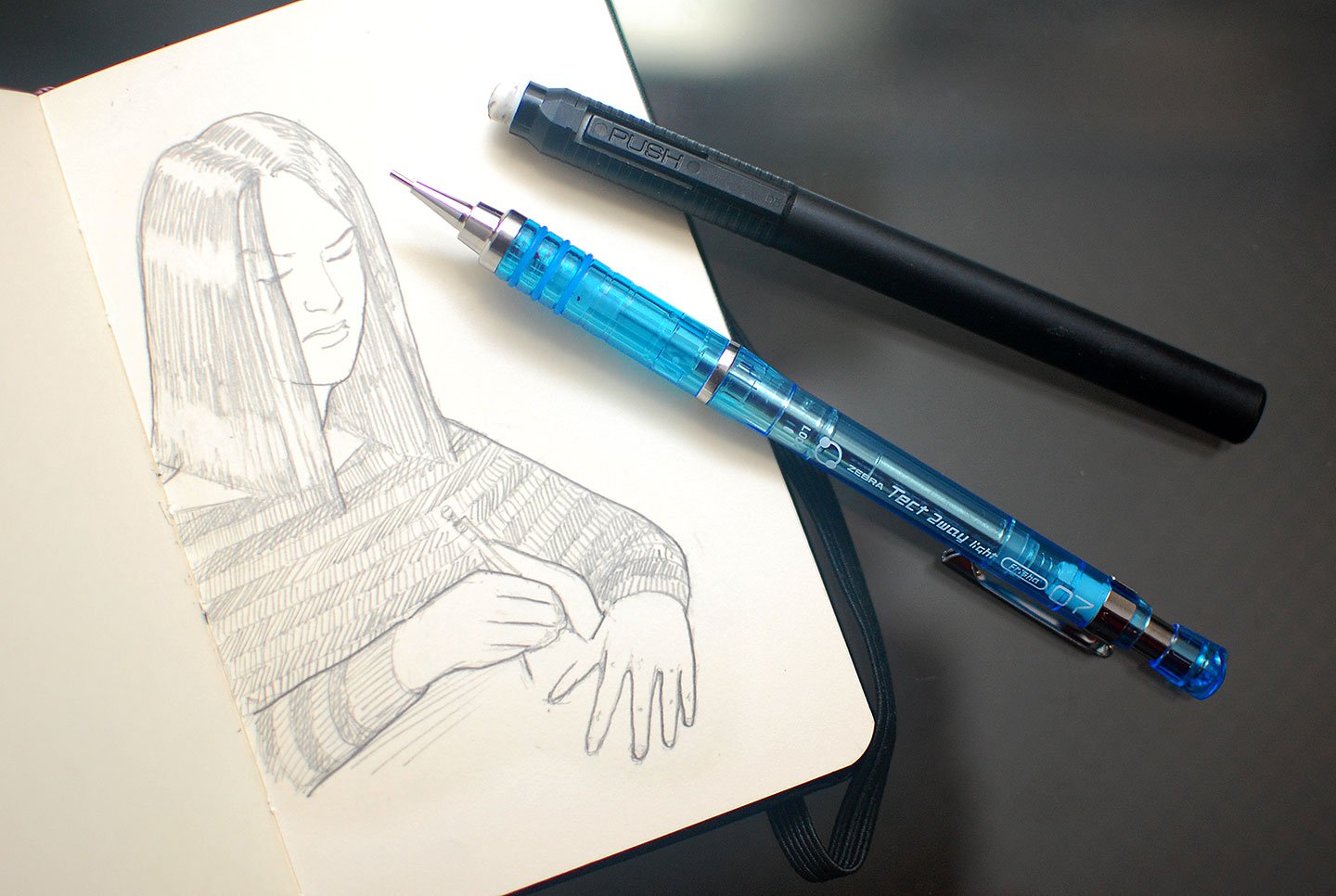 [Above: An imaginary girl sketches herself to life with the Zebra Tect 2way Light Frisha drafting pencil.]
Last week I received a couple of review items from Jetpens. Here's the first: The Zebra Tect 2way Light drafting pencil. I reviewed the light blue 0.7mm version.

The "2way" part of the name refers to the way this pencil works. You can either press the cap to advance the lead, or you can shake the pencil. If you've used Japanese mechanical pencils before, you probably know how this works.
But.
The Tect 2way also has a lock function. You can actually turn off the shaking part by turning the lock section of the barrel. I've never seen this in a mechanical pencil before. But then, I've never had the urge to turn off the shaker thing, either. Maybe you have.
Oh man that feels good
Since the pencil is transparent, you can see the shaker function working, and it's almost mesmerizing. Basically a weight slides down and activates the lead advance mechanism. But that doesn't do the feeling justice.
The accompanying change in the pencil's center of gravity and the whooshing sound it makes were really impressive to my inner caveman. I found myself tilting the pencil back and forth, just watching and feeling the little weight move around. Oooh! Oooh!
Science fiction rocket styling
The styling on the 2way is a bit neo-retro. There is lots of kibble in the design (little detail bits that aren't necessarily related), and the additional sensory processing added by the transparency throws the gadget-like feel into overdrive. It reminds me of a cute rocket from an old sci-fi movie.
Due to these little points of appearance, I think the Zebra Tect 2way makes a neat gift for anybody who's attracted to that kind of fun techie stuff.
My favorite parts of the design:
The pencil balances well in your hand. Feels terrific compared to a lot of similarly-priced yet unbalanced writing implements.
The grip is simple (three rubber rings) but it feels great. It's also a good example of the kibble on this pencil.
The clip is short, so it won't rub on your hand while you draw. Unless you have monster hands.
The cap shape is this really cool, organic curvy thing. I think if I were 20 years younger it would be in my mouth right now. Mmmm.

MMMM

mmm. Caps.
The shaking mechanism isn't as hyperactive as I'm used to. You can accidentally shake it a bit without worrying about an inch of extra lead suddenly coming out.
Overall, this is a great pencil and at $10 (current JetPens pricing), it's easy to acquire if you like using mechanical pencils.
Finally, does anybody know what the "Frisha" part means? Let me know. I've seen it on other Zebra pencils.
By Marc Carson, Thursday February 13, 2014.
Filed under: Stationery, Pencils
My latest articles about pencils, pens, notebooks, and more