Design Drawing Tips: Sketch notes from the AIBD Mike Lin Drawing Webinar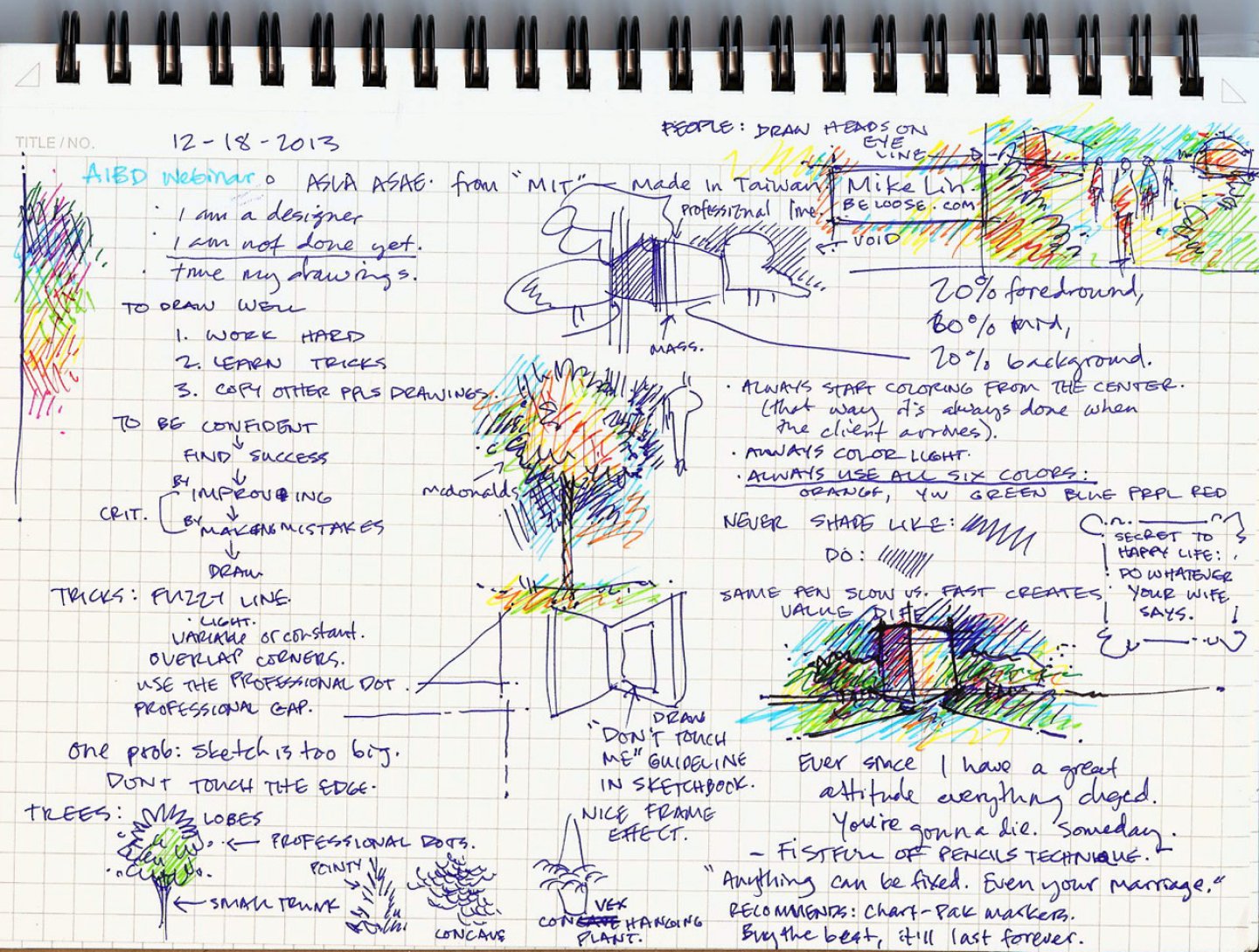 Update: You can watch the webinar right now; it's been uploaded to Youtube:
I just attended a fantastic webinar by Mike Lin of beloose.com. You can click the image above to view a full scan of my notes. There were some great tips, and I hope this scan is useful either as 1) inspiration to draw more or 2) a nudge toward Mike's book, Drawing and Designing With Confidence, or his classes.
In my opinion, if you are staring at this article thinking, "this doesn't really apply to me, as I can't draw, as cool as that would be," I think you are exactly the type of person Mike is interested in teaching.
Some of the things I learned:
Don't draw to the edge of the paper. Guilty! It can help to draw a frame guideline (a rectangle, really) on your paper so you don't get carried away.
Keep telling yourself "I'm not finished yet." Don't let a mistake stop you from continuing your drawing.
Pick up tips and tricks from other designers as you go along. Those tips turn into techniques, and the techniques turn into styles. This is how you get better at drawing.
My favorite tip of the hour was "always use all six colors" — Mike had drawn a demo of six colors in a color circle-type formation: Orange, yellow, green, blue, purple, and red. Then, on a separate page with a rough architectural sketch, he literally took the colors in a handful and scribbled all over the drawing with them. The result raised hairs on my neck. It really made the composition more interesting. Of course, he used e.g. mass/void techniques so he didn't shade the building he was drawing with all six colors—only the background. This contrast and other tips really sell his techniques.
Only having read Mike's book a bit in the past, I wasn't aware of his sense of humor, either. I laughed out loud several times. I'll just say that he has a muscle man action figure and knows how to use it.
Thanks to AIBD for sponsoring such a great webinar.
P.S., I used Staedtler Triplus Fineliner markers with a Mnemosyne Inspiration notebook for my sketch notes.

By Marc Carson, Wednesday December 18, 2013.
Filed under: Design, Sketchwork