"Yaesu is Japanese Portuguese."
Yaesu Radios Settings: FT-4X, FT-65
Man these settings are easy to forget. Phew
YAESU FT-4X HANDHELD TRANSCEIVER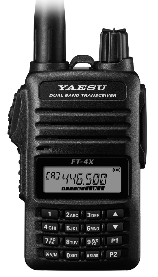 Manual available in Dropbox – Books – Amateur Radio
I really like this little radio. It's super compact, it has IP54 water/particle protection, a quiet AND loud speaker, it scans quickly enough, has auto power-off with selectable timer, a nice long backlight setting, tons of memories, a different sort of dual watch, ability to tap BAND to quickly see a memory channel's frequency, and some other useful features. Good stuff!
Frequently Used / Useful Tips
Turn the FM Broadcast Radio on: Hit BAND until you see TUN and then type in the frequency. Start with a 0 if it's 91.5 MHz or whatever.
To Scan: Hold the up or down arrow.
Program a Channel to Memory: Hit BAND until you get to "tun" then type in the frequency. Then hold V/M. Then use UP and DOWN arrows to select channel number. Then key in alphanumerics, using Function button (bottom left) to navigate to next placeholder. Then hold V/M when done and you'll see MEM-IN.
To View a Memory Channel's Frequency: Tap BAND. Tap again to return.
Repeater CTCSS Programming: Press function. Menu item 36 SQL.TYP select T-TONE. Press function. Menu item 38 TN FRQ Set the TONE frequency. You only want the T indicator to appear (to transmit the Tone), not T SQ (which is CTCSS, you won't hear anything if the repeater doesn't output a tone)
Dual Watch: Switches to Priority Channel every 5 seconds to see what's going on.
To Enable: Switch to selected non-priority channel. Tap Function button (bottom left with two raised bumps) and then press V/M button. "DW" icon will show up. Dual Watch is kind of annoying because it will disrupt the current channel's audio, but in some ways that's better than the Baofeng way, because at least you don't miss priority channel traffic.
How to Program a Simplex Channel: Like normal, except find the ARS menu item for that channel and set to OFF so that a transmission offset isn't used.
How to add a menu item to P1 or P2: Find the menu item and when its name is on the screen, hold down P1 or P2.
How to exit the P1 or P2 display: Tap FUNCTION.
How to Navigate and Edit Menu Items: Hold FUNCTION (bottom left) down and then use up/down arrows, then press FUNCTION again to select, then again to save. OR press PTT to save and exit the entire menu to normal radio operation.
Unlock Transmission Range – MARS/CAP Mod . Party on. Allows you to transmit on non-ham bands like FRS. Expanded Transmit Frequency Range: 137.000 – 174.000 MHz and 420.000 – 470.000 MHz.
To Enable the Mod: Turn the radio off. Hold down PTT and the middle-side button (T/Call) while you turn the radio back on. You'll see "F1 SET.RST". Then type in 32406665. The radio will reboot itself. Repeat to undo.
Useful Menu Items
Beep (Key and PTT or just Key): Menu Item 5
Battery Voltage: 9
Screen Backlight Timer: 15
Memory Channel Delete: 20
Memory Channel Edit Tag: 21 (use UP and DOWN arrows to move to next character, HOLD FUNCTION button to save, then PTT to exit back to memory slots)
Priority Revert: 25 (see Issues / Questions below)
Turn Password feature ON/OFF: 26
Input a Password: 27 (4 digits)
Change Memory Scan Skip ON/OFF: 35 (move to the channel to skip, first)
VFO Split : 42 (NOT split screen) Two different frequencies, one for receive and another for transmit, may be operated.
VOX Function: 43
Weather Alert Scan ON/OFF: 46 (will check for special Weather Broadcast Channels tone every 5 seconds whenever you are scanning channels / freqs like normal)
Weather Notes
"This radio has IP54 intrusion rating. Translated to plain english, the unit is protected against intrusion of particles larger than 1mm and against liquid spray up to 60° from vertical. So, some fine dust may get in at some point, but no water when it's raining." Take it outside!
Issues / Questions
FM Radio Squelch. What's up with the FM radio fading. (Temporarily deleted these from memory...test & investigate)
Why can't I set the scan mode to skip FM radio stations??? I had to delete them from memory...
What is Priority Revert? Apparently: Priority Revert is used to automatically cause the rig to transmit on the priority channel (channel #1) whenever the mic is keyed
What does the password do? To unlock radio? That's cool. Try it.
What is RF Squelch (item 28) for?
How to do normal frequency scanning? Seems to be some cool options there.
Links
Use FT-4X split with amateur satellites
YAESU FT-65 HANDHELD TRANSCEIVER
Manual available in Dropbox – Books – Amateur Radio
Unlock code might be 62406665. At least, it is for the European version.
BONUS CONTENT
AmSats to be launched Nov 19 at 18:32 GMT from Vandenburg on SpaceX Falcon 9
https://amsat-uk.org/2018/11/14/ssoa-amateur-radio-satellites/
Satellites known to have Amateur Radio payloads are: